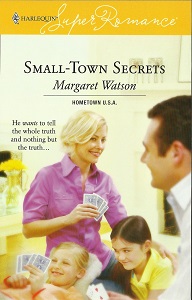 .
Kendall's in for a shock. Two, actually.
Gabe Townsend has a lot of nerve to show up after seven years and book into her B and B. It hadn't been easy for Kendall Van Allen to move on after her husband was killed. But she'd persevered, picking up the pieces, running a successful business and raising her two girls on her own. She's put aside the guilt over her part in her husband's death. But she'll never forgive herself – or Gabe.
And Gabe hasn't even told her the whole truth. But the more he's around Kendall and the girls, the more he grows to love them – and wants to be a permanent part of their family. Can he really tell them the truth?
When Gabe Townsend returns to Sturgeon Falls for the dedication of a sports field in memory of his deceased best friend, he finds himself still attracted to Kendall Van Allen, his friend's widow. Kendall, who still feels guilty over her initial attraction to Gabe while she was engaged to his best friend, struggles to keep her own feelings hidden from him.
---
Small-Town Secrets (3 stars), by Margaret Watson, is a well-written story. Her use of a subplot — a secondary romance that's also rocky — gives this story added depth.
–Alexandra Kay, RT Book Reviews
This is an interesting story and a fun, quick read. It's a little meatier than most Harlequin romances, drawing out the relationships between the characters and even giving some of the orchard workers key roles that help the story unfold. As a Wisconsinite, picturing Lake Michigan and Door County throughout the story was like coming home to a long, lost place and time. The characters rang true and there was no contrived drama dropped into the plot to spoil a budding romance between two people who were clearly meant to be together. Including the extended family by way of a brother and his girlfriend and her child added to the intrigue by involving all the adults who decided that love means forgiveness and forgiveness leads to happiness.
-Angela Cisco
---