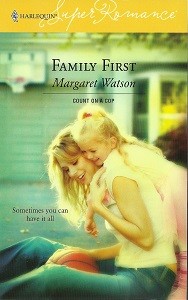 .
Never get involved with your patients.
That's no problem for by-the-book police department psychologist Kira McGinnis. She has enough on her plate taking care of her five-year-old daughter and her troubled teenage brother. And now she has the difficult-and disarming- Detective Jake Donovan as a patient. Can she ever get him to drop the tough-guy act and open up?
Jake would like to get to know Kira better – outside the job. But that's impossible, since he is her job.
---
Rita Finalist
Desert Rose Golden Quill Winner
Colorado Award of Excellence Finalist
---
In Family First, Watson delivers another sweet and very human love story. Her characters are personable and realistic, each strong in their own way. This is the kind of story that reminds readers that it IS possible to find romance and a happy ending in every day life. It's a fine addition to the Harlequin Super Romance line.
–Christina Wantz Fixemer, WANTZUPONATIME Book Reviews
After killing a dangerous criminal in the line of duty, police detective Jake Donovan must talk to psychologist Dr. Kira McGinnis before returning to work. But Kira won't clear Jake for duty until he talks out his feelings about the shooting — something Jake is reluctant to do. Kira, in the meantime, fights her attraction to her patient but ends up giving in when Jake helps her solve her own family issues with her teenage brother. Family First (4 stars), by Margaret Watson, is an interesting story. Just as people do in real life, her characters make sacrifices for those they love, an element that makes the story ring true.
–Alexandra Kay, Romantic Times Book Review
---