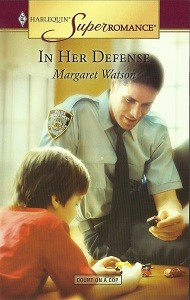 .
Mac McDougal is a detective with a case to solve and no one, especially not victim's advocate A.J. Ferguson, is going to get in his way. He's chasing a man suspected in the disappearance of a young waitress, and A.J.'s clients, the man's abused wife and child, are the only ones who can lead Mac to him.
Mac and A.J. are complete opposites, but they must work together to find the wanted man – before he finds them.
---
Riverton police officer Pierce McDougal is furious when he suspects victim's advocate A.J. Ferguson of holding up a case by making him wait to interview a child who was a witness to his mother's abuse. But when A.J. is threatened by the violent husband, Pierce is quick to protect her. Romance develops nicely between A.J. and Pierce in Margaret Watson's In Her Defense (3).  A.J. and Pierce's desire to do right makes them very likeable characters. A good read.
–Alexandra Kay
---